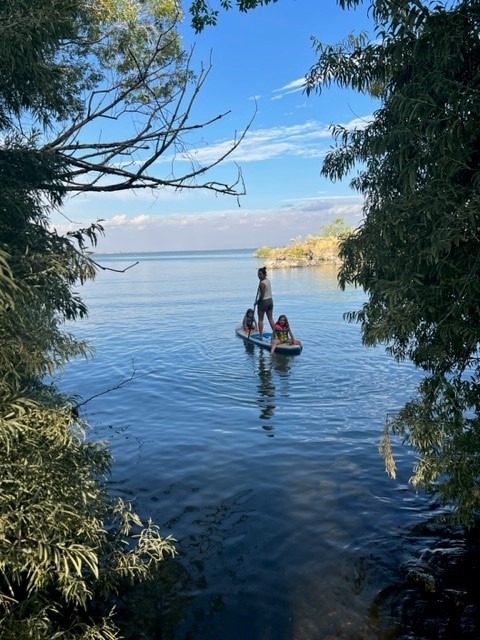 Neonatal Research Nurse Coordinator Chelsea Solorzano, BSN, RN shares how PEAK Health & Fitness has helped her fit positive, healthy opportunities into her day-to-day life
I learned about PEAK years ago while perusing PULSE, though honestly, I never did more than look at the class offerings and produce a million and one reasons why I couldn't and wouldn't participate. I've worked at the U for over 8 years and recently I transitioned from 12-hour bedside nursing shifts to a 9-5 desk job. While I was undoubtedly excited for the new job opportunity, I feared I would get bored if I was not running around a unit and being active during my day. There seemed to be multiple hurdles in my quest for body movement because in addition to becoming a full-time employee, I am also an individual, a wife, a mother, and wear numerous other important "hats" in life. My goal was to find a way to move my body, at an affordable price, during a time that fit my busy schedule, and that kept me engaged so didn't burnout after two classes. I went back to PULSE and found PEAK's website.
I signed up for a weightlifting class this fall semester. Weightlifting is my least favorite part about working out, I'm more of a cardio, jump-around kind of person and weightlifting has always felt like a chore I did not want to do. But I also know how important weightlifting is for you as you age and the multitude of benefits to lifting weights. At twice a week at 6:30 a.m., I figured "why not?" While I do consider myself a morning person, when I woke up for that first class, I was regretting my life choices. Nevertheless, I showed up to a room with an upbeat, fun playlist of songs and a full-body strength training circuit that was challenging but not discouraging. I was hooked. I love to joke with my brothers about my "gains" – going from upper body workouts with 5 lb. weights to 10-15 lb. weights in the span of a semester, I feel so proud of the growth my body has accomplished! We all know that exercise helps improve our mental health. Through this pandemic and the winter season, I needed this class more than ever – and I FEEL the benefits.
In addition to the weightlifting class, I took the Intensive Lifestyle Program. While I do consider myself a healthy person, I feel there is always room for growth. This program is more than I could have ever imagined. What you get out of this class is directly related to how much you want to invest in it. This program talks not just about food and exercise, but also about mental health, managing stress, and incorporating mindfulness into our routines. It has been instrumental in teaching me ways to improve my life and to control the things over which I do have control - my choices.
Without question, choosing to participate in PEAK's offerings has improved my strength, confidence, mental health, and has motivated me to keep taking these affordable classes. With a variety of times and activities – I do believe there is something for everyone.
Chelsea Solorzano, BSN, RN
Neonatal Research Nurse Coordinator
University of Utah, Pediatrics – Neonatology
2022